Sober and chic all at once
The rooms of the Saint-Paul hotel are equipped with twin or double beds. They have a flat-screen TV with TNT channels. The decoration is elegant and contemporary.
The charm of the rooms and suites with a sea view is undeniable. As you move upstairs, the panorama becomes even wider. In addition to the port and the Baie des Anges, it embraces the foothills of Nice and Mont Chauve.
The suite benefits from a double orientation with a sea view and a garden view. Take a break in this 50m2 haven of peace, to live a unique experience. Our suites have a lounge area with sofa, ideal for a family stay. Fully equipped, you will find absolute comfort and a breathtaking view of the Mediterranean.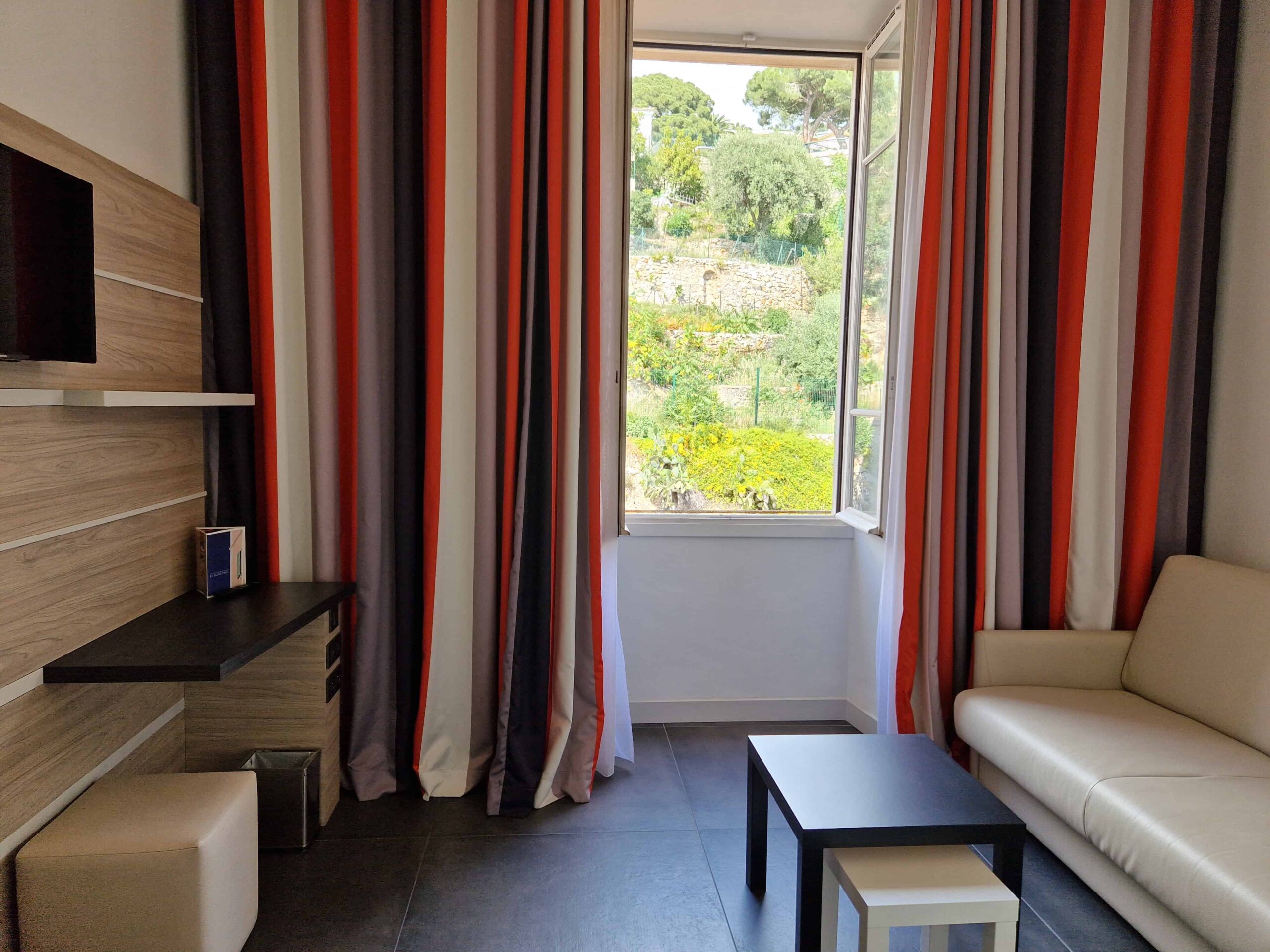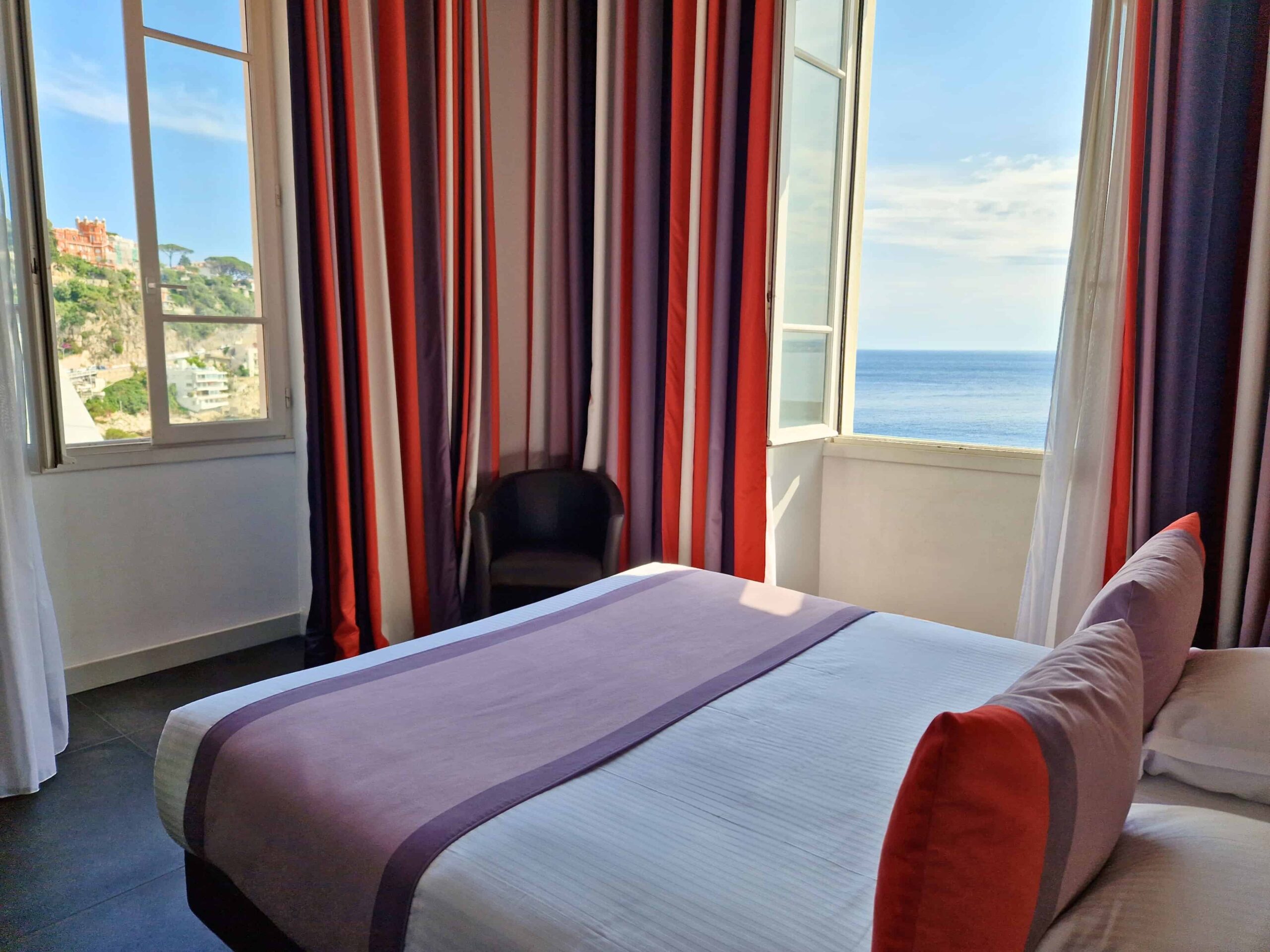 Rooms and suites ranging from 15 to 50 sqm
All rooms are non-smoking

Queen size bed or twin beds

Flat screen TV, french and international channels

Sea or garden view rooms
Our rooms have a sea view, a patio view or a mountain view

Air-conditioned rooms
All rooms have air conditioning. Opening your window will automatically turn off the air conditioning.

Internet Wi-fi (Fiber Network)
Hi-speed Wi-fi available free of charge in your room and in all public areas of the hotel. A computer is available in the lobby free of charge.

Breakfast
A rich buffet breakfast is served daily from 07:00 to 10:00. Hot drinks and fruit juices, pastries, cereals, cold meat… And always the possibility to sit on the terrace, even in winter!

Free parking
A private car park with 80 spaces.

Electric charging stations available on site
(extra charge)

Room card
Your room card allows you to open the parking gate and access the reception during the night. All our rooms are equipped with an energy-saving box to limit power consumption in your absence.
PRM facilities
We have rooms accessible to people with reduced mobility (PRM)

Your pets
There is an additional charge of €15 per day for each pet that shares your room.

Transfers / Taxi / Car hire
We can book your transfers from the hotel.

Concierge
The reception staff is at your disposal to provide you with all the information you need to make your stay in Nice a success.

Luggage storage
A free luggage room is at your disposal for the day. It allows you to temporarily store your personal belongings in order to facilitate your stay and your movements in the city.

Mini-bar
For your comfort, each room has a mini bar to refrigerate your drinks and other products.

Safe deposit box
For your security and comfort, your room is equipped with a private safe in which we invite you to deposit your valuables.

Restaurant and Bar
The bar is open from 10:00 to 21:30 7 days a week.
The restaurant welcomes you (reservation necessary, subject to availability):
from 12:00 to 14:00 for lunch,
from 19H30 to 21H30 for dinner.